Midnight Blue Youth Activating Drop 20ml
Best Before:

2026/03/07

Manufacture Date:

2023/03/08

Product Code:

8809115023681
In Stock
Your very first blue for ageless skin.
#MidnightBlue #YoutheningBlue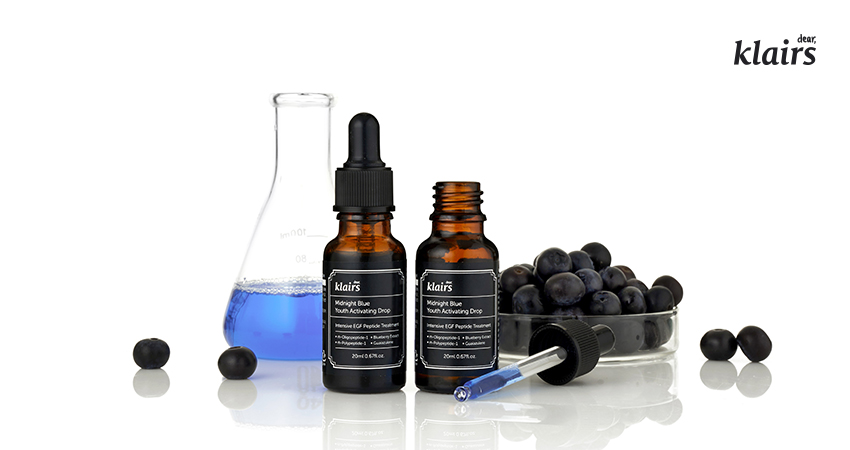 Description
This night serum reduces fine lines and wrinkles using a dual peptide formula strengthened by EGF (sh-Oligopeptide-1) and bFGF (sh-Polypeptide-1). Ten ingredients fight and prevent aging to maintain youthful-looking skin.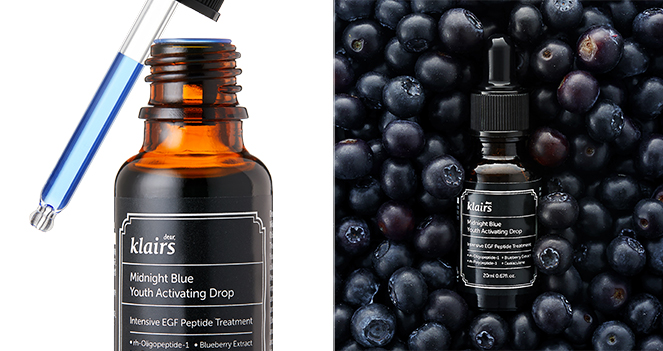 Tips
Follow up your skincare routine with the Midnight Blue Calming Cream for a calming finish.
 
Main Ingredients 
EGF (sh-Oligopeptide-1) and bFGF (sh-Polypeptide-1)
The body itself produced substances called EGF and bFGF. Both ingredients are key factors that keep the outer and inner parts of the skin firm and smooth and are crucial in the skin's elasticity, gloss, and skin tone. (** The explanation above is descriptive of raw materials.)
However, in the mid-20s, the concentration of EGF in the body decreases rapidly, and the amount of collagen produced in the skin also drops to 50%. Ultraviolet light (UVA) that is inevitably absorbed every day penetrates deeply into the skin and destroys the essential elements of skin health, but skin with slowed production of EGF and bFGF can't respond at the same rate as before. As a result, a decrease in skin elasticity is felt starting in the mid-20s and is noticed more in the form of wrinkles or decrease in firmness in the 30s. The Midnight Blue Youth Activating Drop has been developed for this exact period.
NOTE! 
It's best you use this blue drop at the first step of your skincare routine.
Please take care in following application order, as applying an oily product beforehand can interfere with the blue drop's absorption.
CHECK! 
"Delay Aging"
Skin gradually ages and loses elasticity over time. This is a natural phenomenon that can't be prevented or avoided. However, you can delay the process by replenishing factors lost and damaged over time and protect the skin from direct irritants, such as ultraviolet rays.
Q&A's
Q. Do I need to start anti-aging if I'm still in my 20s?
A. It's common to think that anti-aging is for the middle-aged, but it's better to judge your skin's condition rather than your age. When impressions in the skin last for a long time, foundation starts caking up in between the wrinkles, discoloration doesn't disappear, firmness is lost and skin feels saggy, or when the skin's barrier is weak and easily irritated, it's a good idea to start your delay aging process. 
Q. Is it effective on wrinkles that appear in your 40s and older?
A. From the 30s onward, the skin changes on a much faster rate. The KLAIRS Blue Drop is a high-intensity product that delivers a definite transformation experience with high concentrations of EGF and bFGF, regardless of what age you are. The EGF is prescribed to the max level of 10PPM as well as the bFGF (93% of total weight), containing enough for significant effects. Also containing adenosine, a raw material with wrinkle-improving effects), and guaiazulene, which calms the skin stimulated by UV rays, it's designed to combat various causes of aging, for use by everyone—regardless of age.
Size 
20ml
Country of Origin 
Made in Korea
After cleansing and before using the toner, apply 3-4 drops over the face and gently pat to promote absorption.
Water, Butylene Glycol, sh-Oligopeptide-1, sh-Polypeptide-1, Vaccinium Angustifolium (Blueberry) Fruit Extract, Lecithin, Sorbitan Sesquioleate, 1,2-Hexanediol, Caprylyl Glycol, PEG-60 Hydrogenated Castor Oil, Glycerin, Chlorphenesin, Guaiazulene, Ethylhexylglycerin, Adenosine
---
You May Also Like