All Purpose Skin Cream 118ml (GWP) All Purpose Skin Cream Samples 2ml x 5PCS
Best Before:

2025/03

Product Code:

764936777770
In Stock
Description
The fashion press and beauty bloggers from around the world agree that Egyptian Magic is a "must-have" skin cream for leaving your skin incredibly soft, smooth and blemish-free.
Egyptian Magic is an all-natural skin cream made from six of nature's most powerful moisturizing and healing ingredients. For more than 20 years we have been blending these ingredients using our unique, proprietary process based on a formula that was created thousands of years ago in the land of the Pharaohs. The result is a luxurious cream with moisturizing and nourishing properties that are legendary among celebrities, the fashion industry, even doctors and hospitals. With that support, Egyptian Magic has grown exclusively through word-of-mouth to be one of the most popular and widely endorsed skin creams in the world.
Egyptian Magic Multi-Functions
Skin Care Moisturizer & Beauty Cream
Many often start using Egyptian Magic to treat a skin problem such as a rash or burn or scar, and then continue using it as a skin moisturizer and as an anti-wrinkle skin care cream. We find that using it twice a day does wonders for creating soft, smooth skin. And this, of course, is one of the key reasons Egyptian Magic is so popular among the fashion and movie industry as a beauty cream for face and skin care.
Healing Burns & Treating Cuts and Scrapes
Some users keep an extra jar of Egyptian Magic in their first aid kit exclusively as a treatment for burns, scrapes, skin irritations and the like. Since Egyptian Magic will stay fresh indefinitely, you can store it for an extended period of time without concern for it losing effectiveness.
Healing Scars
Users have also commented on Egyptian Magic's "magical" ability to heal scars. Although it's not recommended for older scars, many users believe Egyptian Magic can indeed work wonders to minimize relatively recent scars and skin discolorations. Egyptian Magic is popular among many plastic surgeons, who recommend it to their patients for accelerating the healing of plastic surgery scars.
Natural Hair Conditioner
For many customers, one of the most delightful discoveries is how beneficial Egyptian Magic can be as a moisturizing hair conditioner – either on a regular basis or as a conditioning hot pack. Egyptian Magic's all-natural ingredients will restore luster to your hair and replenish its natural oils.

Eczema & Psoriasis Treatment
We find that about one-third of users discover Egyptian Magic after looking to natural alternatives to commercial moisturizing creams as a treatment for eczema and psoriasis. Though different in nature, both of these conditions can often be treated by the twice-daily application of a moisturizing cream, according to several authorities. All-natural Egyptian Magic is an ideal choice.
Skin Rash Cream
Egyptian Magic is reported to work well in treating all kinds of rashes, including allergic reactions to drugs, chemicals, environmental irritants and insect bites; skin irritants, such as nickel or other metals; heat rash, irritation from clothing, rashes during pregnancy, and so on.
Size
118 ml
Country of Origin
Made in USA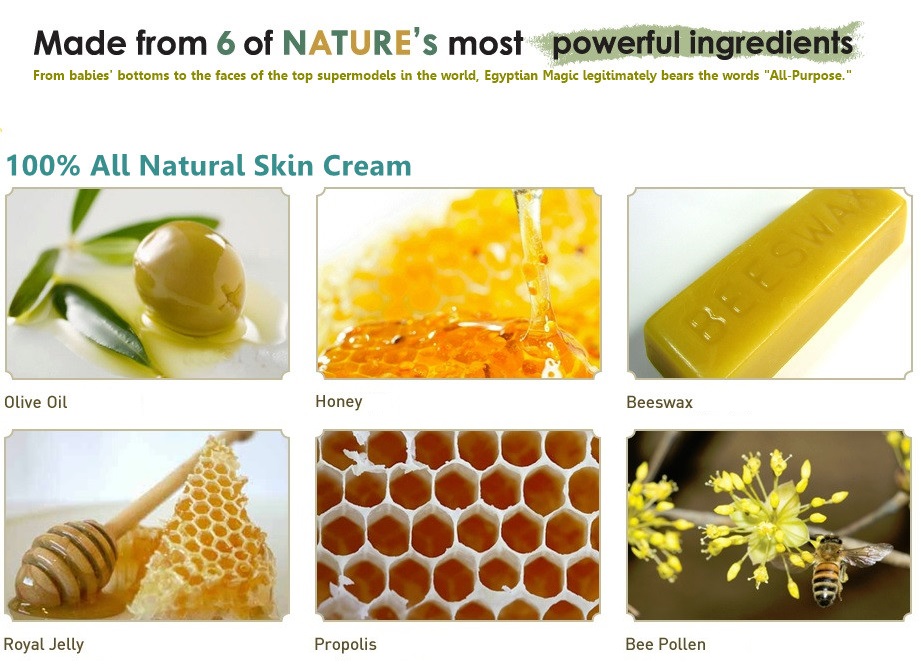 * olive oil
* bees wax
* honey
* bee pollen
* royal jelly
* bee propolis
---
You May Also Like