Midnight Blue Calming Sheet Mask [ 5 PCS ]
Best Before:

2025/05/27

Product Code:

8809572890222
In Stock
Anti-inflammatory & cooling care
with 'Blue Calming Mask'
#BlueCalmingMask #SkinFriendlyMask #PorePurifyingCare
Whether it be internal or external factors, our skin is exposed to various irritation on a daily basis.
For these everyday stimulations, daily care to ease the irritation is necessary.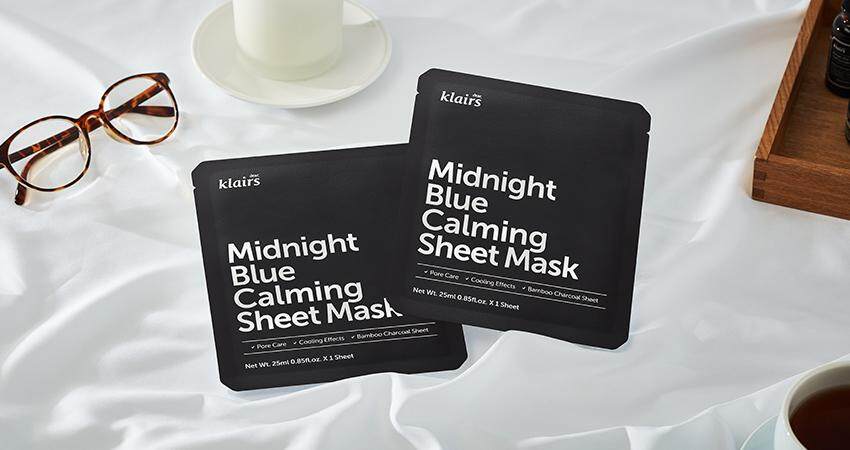 Features
Low irritating and cooling ingredients such as Erythritol is used to rapidly lower the skin's temperature and reduce irritation. The sheet to maximize the softness is used to increase calming and balance out the cooling effect of the mask. Bamboo Charcoal on the low irritant sheet makes it comfortable for sensitive skin, and maintains moisture for a long time.
Description
This sheet mask soothes sensitive skin with calming ingredients. Erythritol lowers the skin's temperature and reduces irritation, soft rayon sheet provides comfort to the face and Bamboo Charcoal Powder cleanses pores and keeps blackheads away.
Tips
Apply the Klairs Midnight Blue Calming Cream after you have removed the sheet mask for deeper hydration.
 
Recommend For
1) For skin that is easily heated due to irritation.
2) For skin that feels clogged when applying oil products.
3) For oily skin with active sebum secretion.
4) For skin that frequently undergoes facial extraction.
Key Ingredients
Salix Alba (Willow) Bark Extract, Erythritol, Dipotassium Glycyrrhizate, Melaleuca Alternifolia (Tea Tree) Leaf Oil, Centella Asiatica Extract
Size
25ml/ per sheet
Country of Origin
Made in Korea
1) After cleansing, place the sheet mask on clean and prepared face.
2) Gently remove the mask 15-20 minutes later.
3) Pat the essence to promote full absorption.


Water, Butylene Glycol, Methylpropanediol, Glycereth-26, 1,2-Hexanediol, Salix Alba (Willow) Bark Extract, Glycerin, Erythritol, Arginine, Carbomer, Carrageenan, Betaine, Allantoin, Ethylhexylglycerin, Propanediol, Polyglyceryl-10 Laurate, Glyceryl Acrylate/Acrylic Acid Copolymer, PVM/MA Copolymer, Disodium EDTA, Dipotassium Glycyrrhizate, Melaleuca Alternifolia (Tea Tree) Leaf Oil, Centella Asiatica Extract
---
You May Also Like