Midnight Blue Calming Cream (2 choose 1)
Best Before:

2025/02/13

Manufacture Date:

2022/02/14

Product Code:

8809115027092
In Stock
You may choose either one:
1. Klairs Midnight Blue Calming Cream 30ml (Expiry Date: 2025/02/13)
2. Klairs Midnight Blue Calming Cream 60ml (Expiry Date: 2025/11/07)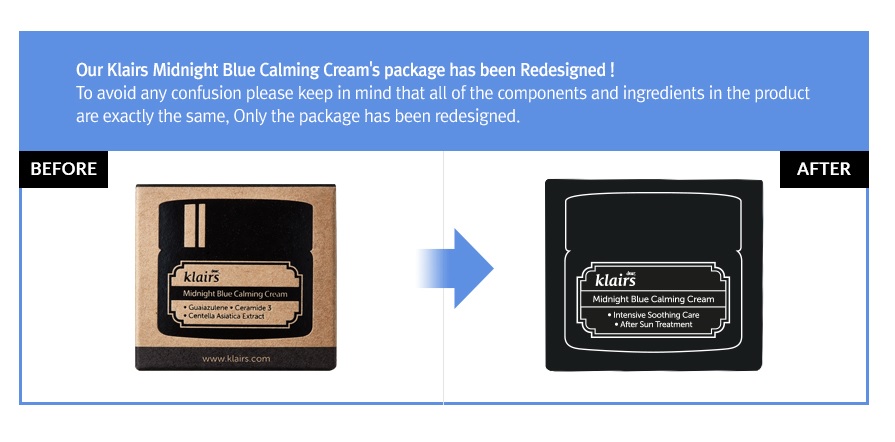 Small, but enough.
Keep calm and feel it.
#BlueCream #CalmingBlue #BlueRepair
If moisturizing just wasn't enough for your sensitive skin,
Meet the Real Blue Cream to protect your skin from irritations & stress.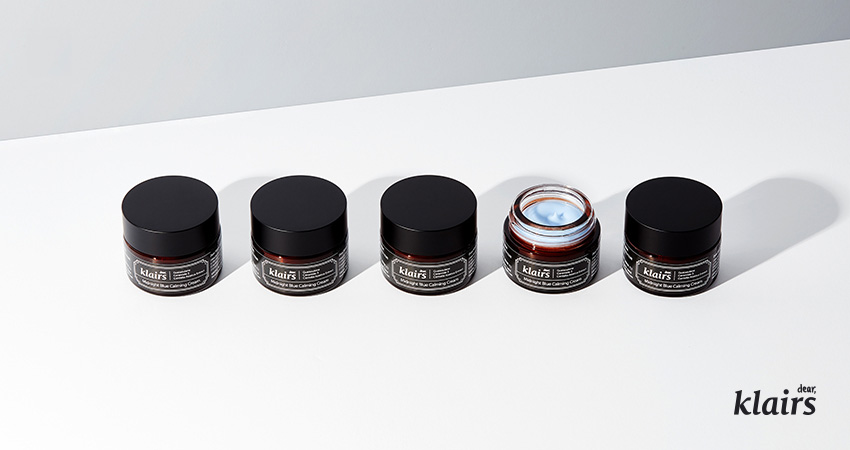 "The KLAIRS' Rich Moist Soothing line is loved for its excellent calming & moisturizing effects by many consumers. We believe the primary reason for the popularity of the Soothing line was due to the high satisfaction most of our customers felt from the powerful moisturzing effect. However, we wanted to design the optimal product for the few customers who were still experiencing irritations from external stimuli with additional skin concerns. 
After a long term of researching with the R&D team, the KLAIRS's Midnight Blue Calming Cream was created to go that extra mile."
Description 
This gentle cream instantly calms and soothes sensitive skin. Star ingredients include Guaiazulene, a natural component extracted from Chamomile Oil with powerful calming effects, and Centella Asiatica that hydrates the skin and relieves redness.
 
Tips
Use partially on your skin when:
1. you are sunburned
2. after shaving
3. on problematic areas or extrusions
 
Features
As a cream that helps calm & strengthen barriers in extremely sensitive skin, when used with the soothing line, it works rapidly to soothe and regulate irritated (by heat or sebum), stressed skin. 
If the Rich Moist Soothing Line and its nonirritating, deeply calming and soothing effects did not meet up to your expectations and needs, try the KLAIRS' Midnight Blue Calming Cream for that total care. Although the KLAIRS' Midnight Blue Calming Cream is used for targeting smaller areas, it's designed with excellent spreadability so a small amount could cover a large area. Enjoy a high efficacy & satisfaction with only a small amount.
Main Ingredients 
Guaiazulene :
With herbal ingredients extracted from chamomile, it shows a dark purple color and is effective in calming the inflammation of damaged skin tissue as well as regeneration of skin cells. Containing 0.03% (similar to contents in an ointment that is currently on the market, Japanese clinical trials demonstrated effects of 89.7% in sunburns, 60.6% in eczema, and 86.5% in ulcerative skin diseases, and is used as the main raw material in burn ointments.) 
Centella Asiatica Extract :
As a plant native to Madagascar, it is also known as 'tiger grass' and is often used in cosmetics as 'Centella Asiatica.' Helps regeneration in damaged skin and prevents scarring; primary ingredient in ointments.
Size 
30ml
Country of Origin 
Made in Korea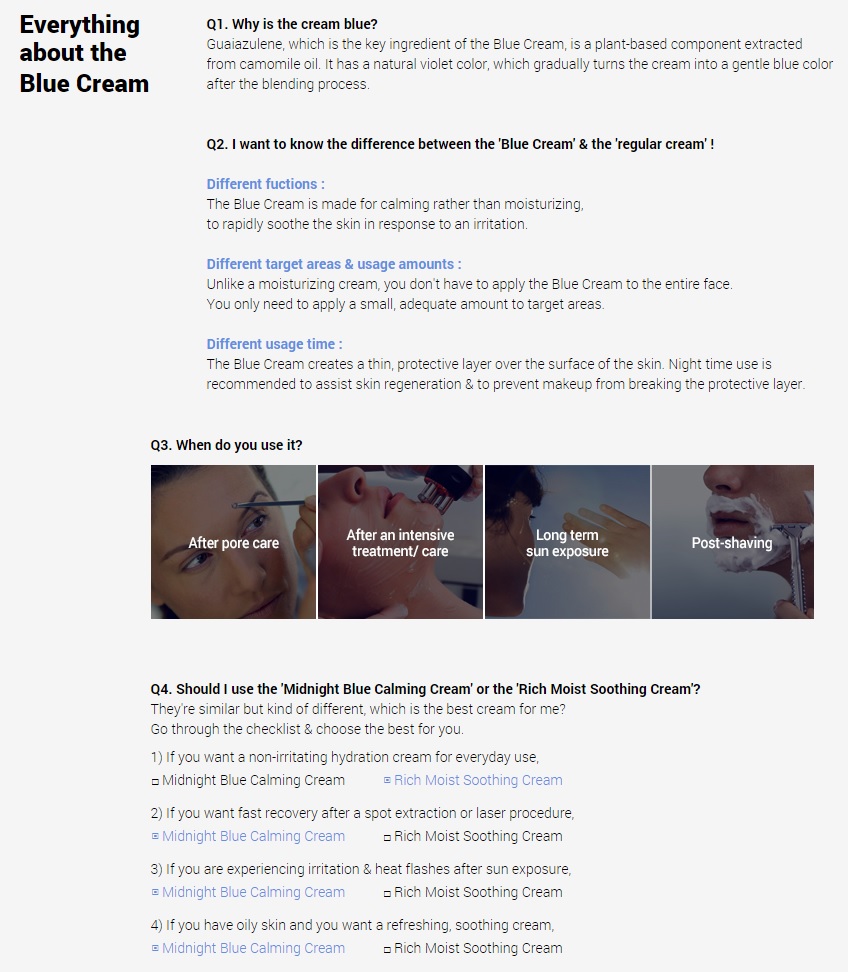 Before & After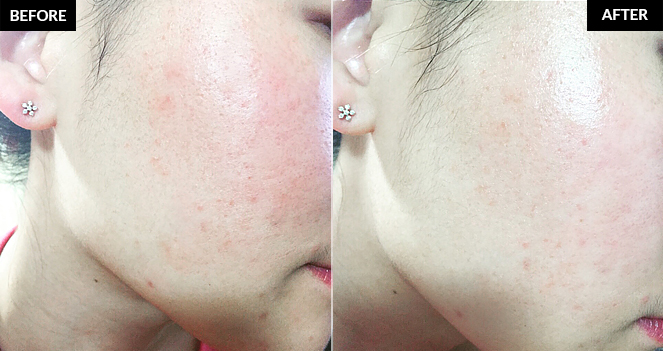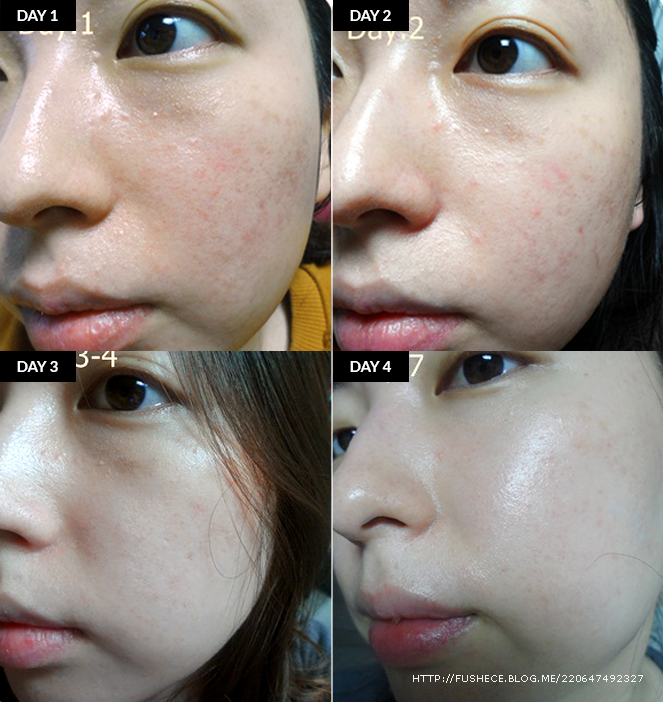 At the last stage of your evening care routine, apply a small amount on desired areas in a thick layer.


Water, Cetyl Ethylhexanoate, Butylene Glycol, Glycerin, Sodium Hyaluronate, Caprylic/Capric Triglyceride, Centella Asiatica Extract, Sorbitan Stearate, Cetyl Alcohol, Butyrospermum Parkii (Shea Butter), Argania Spinosa Kernel Oil, Simmondsia Chinensis (Jojoba) Seed Oil, Sorbitan Sesquioleate, Glyceryl Stearate, Stearic Acid, Portulaca Oleracea Extract, Anthemis Nobilis Flower Extract, Ceramide NP, Polysorbate 60, Bees Wax, Chlorphenesin, Tocopheryl Acetate, Xanthan Gum, Acrylates/C10-30 Alkyl Acrylate Crosspolymer, Morus Alba Root Extract, Tromethamine, Brassica Oleracea Italica (Broccoli) Extract, Guaiazulene, Acetyl Hexapeptide-8, Lecithin, Acetyl Glutamine, SH-Olgopeptide-1, SH-Olgopeptide-2, SH-Polypeptide-1, SH-Polypeptide-9, SH-Polypeptide-11, Bacillus/Soybean/Folic Acid Ferment Extract, Caprylyl Glycol, 1,2-Hexanediol
​
---
You May Also Like