Gentle Black Sugar Charcoal Soap 100g (GWP) Klairs Random Samples x 2PCS
Best Before:

2023/06/07

Manufacture Date:

2021/06/08

Product Code:

8809572890208
Out Of Stock
The last step of pore care,
Gentle Black Sugar Charcoal Soap !
KLAIRS's soap series are made by master craftsmen who have produced soap for more than 20 years.
Delicately selected natural ingredients were matured for enough time at a low temperature.
For your benefit, artificial ingredients, such as surfactants, hardener, preservatives or fragrance were not used.
Natural glycerin from the production stage is contained within the soap to maximize hydration effects. 

When lathering the Gentle Black Sugar Charcoal Soap between palms, dense black bubbled are created.
Charcoal eliminates dead skin cells and organic Ghassoul from Morocco draws sebum out of the skin. 
Experience the feeling of purified pores along with a more brightened and even skin tone !
Description
Charcoal Powder removes dead skin cells and absorbs sebum while Pine Oil and Black Sugar retain moisture after cleansing. Recommended on extra oily skin with blackheads.

Tips
1. Cleanse dry face with rich foam for best results.
2. Use at the last stage of your pore care routine.
Features
Gentle Blacksugar Charcoal Soap to moisturized skin after pore care
Gentle Black Sugar Charcoal Soap contains pine oil and black sugar for skin soothing and hydration. Leaving the skin well moisturized even after cleansing. When used with the Gentle Black series, it is a great daily cleansing experience for oily skin while effectively cleansing  the pores and clearing away dead skin cells. 
Sugar contains glycolic acid that is crucial to maintain the healthy skin. Especially the black sugar helps exfoliate away dead skin cells for softness and clarity with its large particles.
Detail 
Size 
Before drying 120g, After drying 100g
Country of Origin 
Made in Korea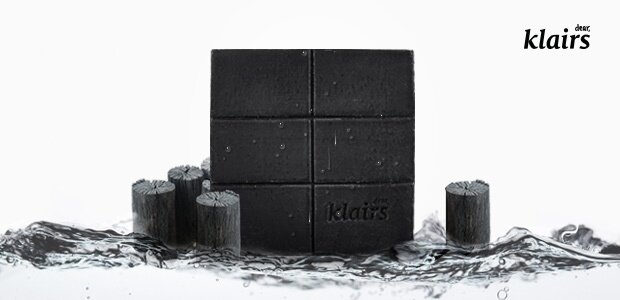 Lather with warm water, gently cleanse and rinse off with clean water.


​Sodium Hydroxide, Cocos Nucifera (Coconut) Oil, Elaeis Guineensis (Palm) Oil, Water, Helianthus Annuus (Sunflower) Seed Oil, Olea Europaea (Olive) Fruit Oil, Simmondsia Chinensis (Jojoba) Seed Oil, Ricinus Communis (Castor) Seed Oil, Tocopherol, Theobroma Cacao (Cocoa) Seed Butter, Glycine Max (Soybean) Oil, Vitis Vinifera (Grape) Seed Oil, Moroccan Lava Clay, Lavandula Angustifolia (Lavender) Oil, Charcoal Powder, Eucalyptus Globulus Leaf Oil, Black Strap Powder, Volcanic Ash
---
You May Also Like