Alcohol Free Original Witch Hazel with Aloe Vera Toner 355ml
Best Before:

2024/12

Product Code:

041507070059
Out Of Stock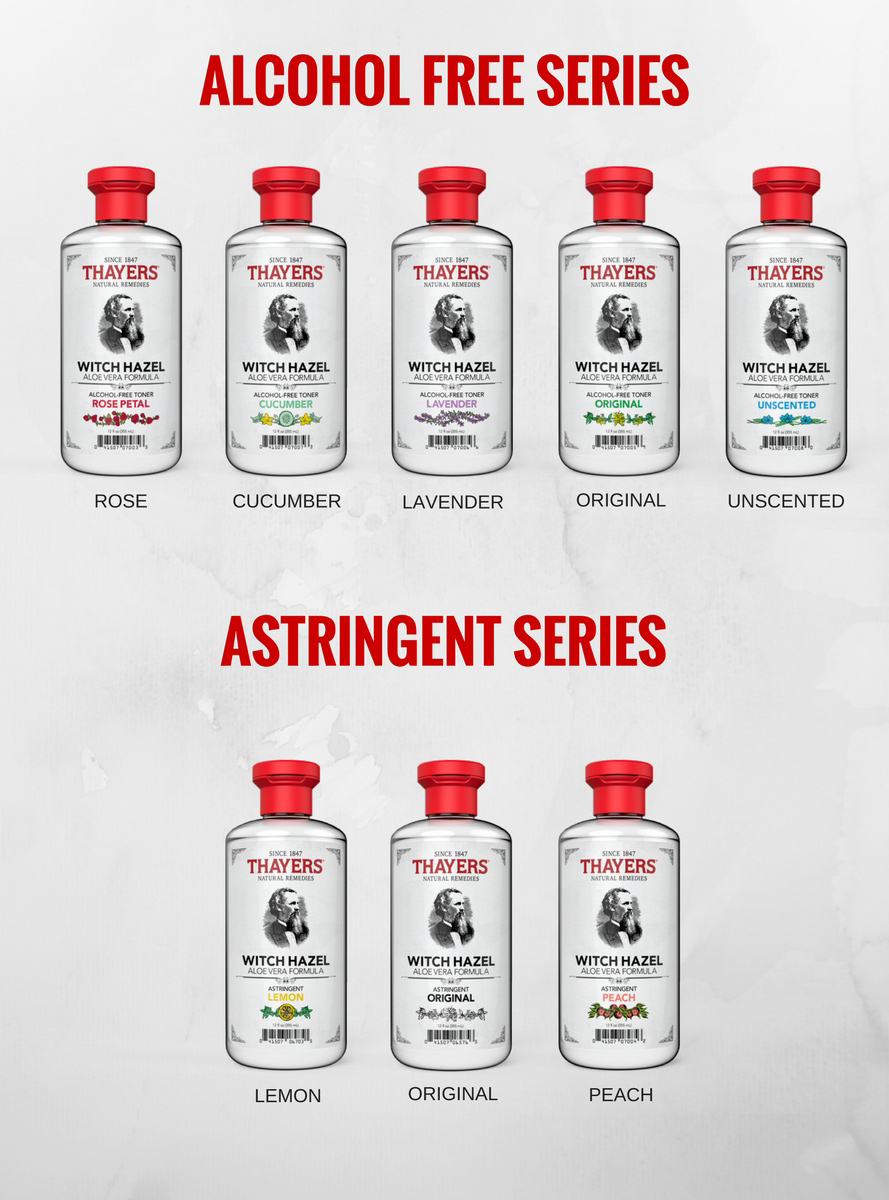 Description 
A natural gentle skin toner derived from a time honored Native-American formula. Now people with sensitive skin have an Alcohol-Free Witch Hazel Toner, with a fresh, outdoors natural Witch Hazel Fragrance. Thayers developed this all-natural toner for healthy looking skin, adding moisture while helping to protect the skin from airbone impurities, and as an alternative to drying astrigents. Witch Hazel helps to tighten pores, and to smooth and beautify skin. Thayers proprietary Witch Hazel extract (derived from the bark) is not distilled, thereby maintaining all the benificial natural tannis. Assay of hamamelitannin shows that Witch Hazel bark extract is 31 times richer in hamamelitannin than the leaf extract and 87 times richer than the stem extract.
Alcohol Free series suitable for all skin type, even sensitive skin consumers! That's the savior!
 Alcohol Free

 Paraben-Free

 Pthalate-Free

 Un-Distilled Witch Hazel (with all the benificial natural tannis)

 Moisturises

 Cleanses
Description 
Astringents Toners are soothing, natural treatments that cleanse, heal and preserve your skin. Made from extracts of the Witch Hazel shrub (Hamamelis Virginiana) and a blend of other time-tested ingredients, these natural elixirs containing important tannins have been a fixture in medicine cabinets for generations. Once you use them, you'll know why?
Thayers Original Witch Hazel with Aloe Vera Astringent have been soothing, softening, healing and stimulating skin since 1847. Try our hands-on approach.
Recommended to oily and combination skin type! Cleanse and reduce Acne!
Regulate sebum production

Moisturizing and Whitening

Improving the crack, sunburn, acne

Removal of eye bags,

Relax and ease for oily skin or skin allergies.
Size 
Apply with a cotton ball or soft pad to cleanse, soften, refresh and moisturize skin. Use anytime throughout the day as a softening refresher.
Purified Water, Certified Organic Witch Hazel Ext Blend (Hamamelis Virginiana Extract (Witch Hazel*), Aloe Barbadensis Leaf Juice (Filet of Aloe Vera*)), Glycerin, Phenoxyethanol, Fragrance (Natural Witch Hazel), Citric Acid, Citrus Grandis (Grapefruit) Seed Extract
*Denotes Certified Organic Ingredient
The carefully selected, naturally sourced ingredients in this product may have undergone limited processing.
---
You May Also Like