Product Code:

8809422605754
In Stock
Description
Why should we get rid of blackheads with remove tool
Squeezing your blackheads with your hands instead of using a professional remover tool,
can lead to a pimples or scars, causing severe damage to the skin, and in the case of repeated use,
can cause problems such as scarring and hyper pigmentation. 
So we should use hygienic and useful tool for removing blackheads, especiallywe recommend
to use 'Comedo remove' tool for clean up without danger from external stimulus (like virus, irritation)
Features
1) Hygienic storage container
Blackhead Remover tool used externally to the skin, so sanitary care is very important. SKINMISO Comedo Remover prevented to be contaminated from exterior virus or dust by using a separate aluminum storage container. 
2) High performance for removal
The 'COMEDO REMOVER' which is designed for the safe and complete removal of sebum, also many dermatology are actually used it for customer care in Korea. It can be used different size ring on both sides depending on the symptoms and skin part. 
3) The Stainless Body
This remover tool is made by stainless in order to prevent getting rust and sterilize. Also, strong stainless body helps it not to easily break or bend so that it can be used for a long time.
Cautions
1) When using SKINMISO Pore Beauty Nose Pack, It is possible to feel a bit of sting. And you should shorten the time, if you think it is a bit too much. 
2) Don't use this Comedo Remover tool than removing blackheads, whiteheads and sebum. 
3) Don't use on scars or any kind of skin troubles. 
4) Keep clean the product after use.
Country of Origin
Made in Korea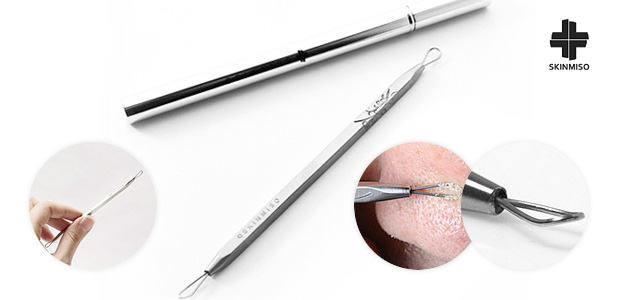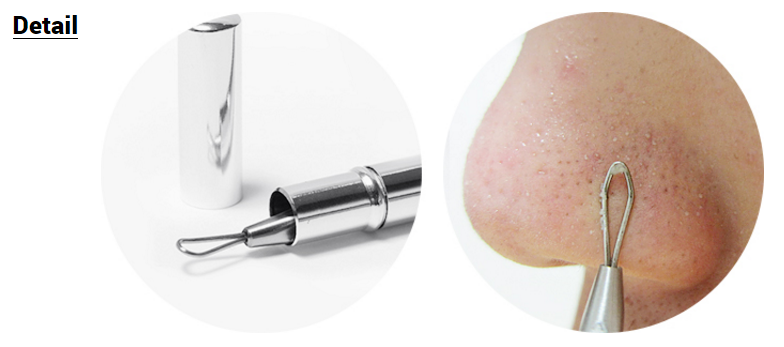 1) Wash your face with tepid water (or you can use steam towel) and stick the SKINMISO Pore Beauty Nose Pack first blackhead mask (1Step) on your nose right in the middle for 10minutes.
2) After 10minutes, remove the first blackhead mask (1Step) and remove the leftover blackheads and whiteheads using SKINMISO Comedo Remover / Blackhead Remover Tool.
3) Put on the second pore soothing mask (2Step) for another 10minutes.
4) Take off the pore soothing mask (2Step) and rub in the essence.
5) Apply the third pore control essence (3Step) on your nose and massage your nose part gently
Material
Aluminum (Case), Stainless steel (Body)
---
You May Also Like